Dec 31, 2009
13,180
12,430
3,910
Bruce's life with us was very short-lived. He started very well, was feeding vigorously, was mostly in peace with the tank mates. Then he developed an illness that's characterized in part by so called duck (swollen) lips and died after a couple of months with us in the 1800 gal. Analyzing in retrospect, I am rather sure it was a combination of
-- an unknown pathogen that has been present in our systems since 2018, maybe columnaris (suggested by

duanes
)
-- inadequate water change of 100% in 20-30 days, instead of the usual range of 3-7 days
-- Bruce's age of 6 years and him being a short-body, which always negatively impacts health and longevity
(A recent thread by
eyespot
on duck lips in cichlids with our input, and Duanes' input:
https://www.monsterfishkeepers.com/forums/threads/vicious-strain-of-duck-lips.746139/
)
6 yo, ~7"-8"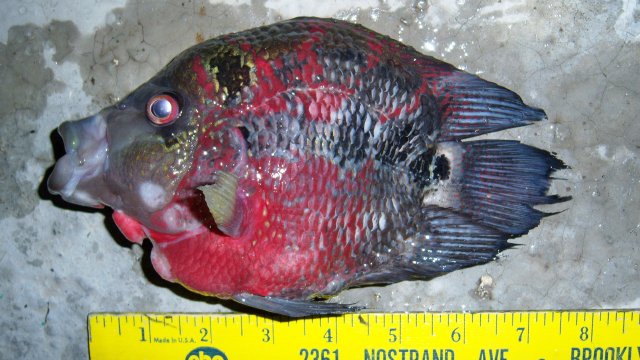 Meanwhile, we were donated another FH by Breezi from North Port, FL, also with an interesting story. It was thought to be a poor quality, damaged, sub par FH at 1"-2" and was sold for $9 by an LFS in Ft. Myers, FL but turned out pretty nice, currently at 12" and 2 yo.
Named Floyd, Breezi says he likes to receive pets and rubs from humans... but kills all his fishy tank mates.
He has been behind a tank divider since he arrived just to see how he does and no, I am not placing him in the water system where Bruce recently passed, so Floyd will be confined to the 240 gal tanks until we get bigger ones on different water systems.
He has done well so far, has been here a month, and now takes large NLS pellets eagerly (took him a week or two) and pays a LOT of attention to Atan the midas and 30 red devils on the other side of the divider.
The arrival video:
Last edited: