Since I recently lost my prized L. Fowleri after 17 years, I've since been looking for another catfish for my 130G tank. After looking for something rare (of course) that I've never kept before, I haven't seen anything available anywhere in the exotic species trade of late from online vendors I trust. Also looking in the Vendor Forum here as well as the Buy & Sell Forum where I found the new one!
According to one expert here who noted it seems to be a "Volta" variant of Auchenoglanis occidentalis, I decided to go for it as this variety seems to be a smaller variation compared the others that grow to 2 or 3 feet. Here's a photo: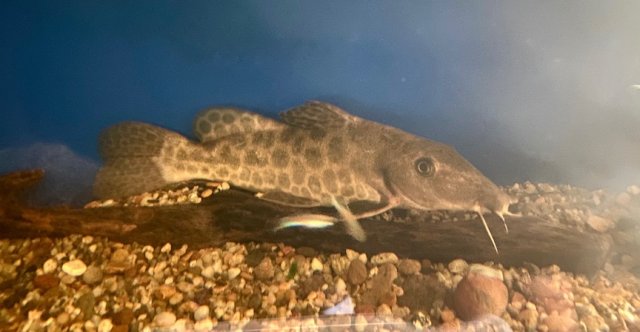 I've kept 3 other variations of whats known as A. Occidentalis, A. whittei and 'bouche' variants before but never one like this. Hopefully it won't outgrow the tank as the others have in the past. Already feeding well at night and finding a favorite spot in the driftwood. My other Auchenoglanis, the 3 A. Biscutatus are doing fine, not much growth to report after 2 1/2 years now, the largest is still around 7" TL the smallest of the two small staying @ 3 1/2" , seemingly I have 2 males, one female. At least now they are less shy and hanging out away from their driftwood spots. My Doradids, the 2 rhinodoras dorbignyi have doubled in size after 2 years here, one small at about 5", the larger one is now 7" plus, again probably a male and female pair as they were each the same size at first. My other pair of doradids, the werthiemaria maculata I've had for 7 months have also doubled in size from 2" to 4", extremely shy and nocturnal, almost impossible to photograph. Interesting is their patterns are starting to change with time from something squiggly to more defined spots. In adults they are mainly brown with gold spots but it seems obvious there will be a while before they will look like the adult version. Here's a photo from last year and one from today: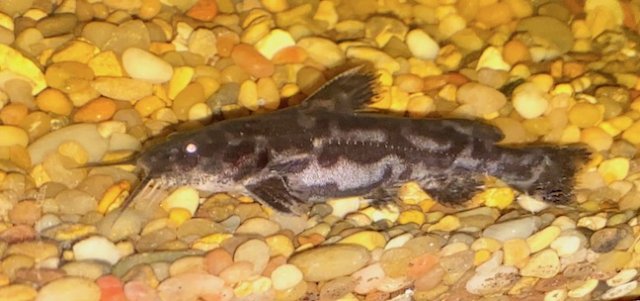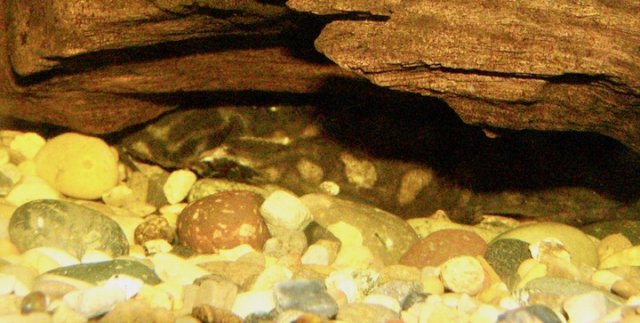 Other than those, my Synodontis Batensoda has grown a little, now at about 7". The 2 rare Synodontis Pardalis are almost never seen and probably haven't grown much past the 6" mark. The parauchenoglanis monkei are likely fully adults now after almost 5 years, also likely a M & F pair, 3" and 6" respectively. The platysulurus mucosus, also likely a M&F pair remain at 6" & 7 1/2" Lastly, my pimelodus blochii at almost 11" is grumpy as ever, still skittish after having (her?) for over 25 years now!
An added bonus to last weekend's road trip to collect the giraffe cat was meeting up with David who sold me the fish. A very knowledgeable keeper of fishes with an amazing collection of some very exotic wonderful specimens indeed! Thank you Sir!