Redtail Catfish
MFK Member
Dec 13, 2018
1,756
2,552
154
If you've never done suspension work on a truck or a large car, you have missed out on a heroic part of the manly arts. In the physical effort department, changing press-fit ball joints is three orders of magnitude above handyman things like tire rotations, spark plugs and coolant flushes.
Anyhow, To avoid being totally broke for the Near future, I rebuilt the entire front suspension on my truck myself.
I changed all 4 ball joints and 4 tie rod ends. (I had previously done the springs and shocks), I did the sway bar links and bushing kit. It also got brake pads. All the elastic bushings were fine so I don't have to mess with them yet.
This is a ball joint press and some of the press plates and cups that go with it.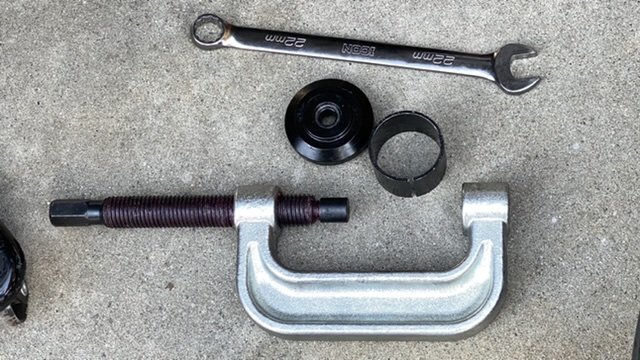 You can press these on a hydraulic shop press which is much easier but you have to take the A-frames off the vehicle.
The upper ball joints are smaller and easier and I did them right on the truck.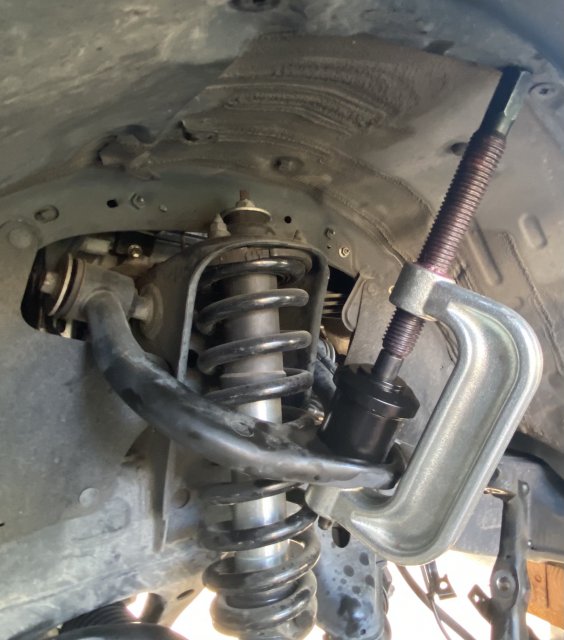 For removing the ball joint, this press just barely fit without removing the spring, and you can see it is touching the plastic inner fender.
Pressing it back in goes much easier,
My ball joint kit does not fit the lower ball joint on my Toyota, so I modified the cup by splitting it open with a pneumatic cut off wheel. Then I very gingerly spread it apart with pry bars and placed it over the ball joint.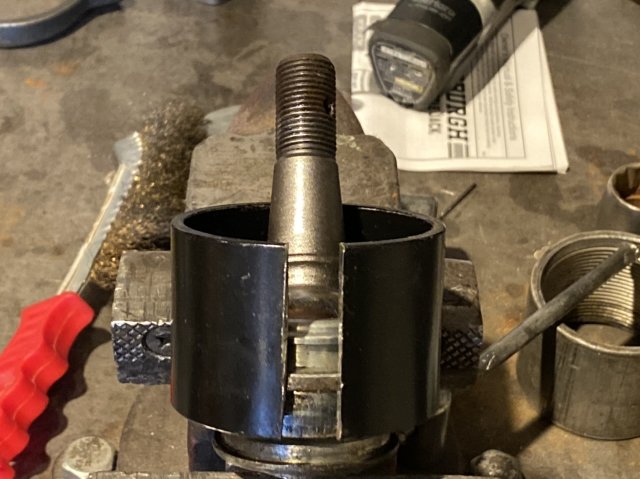 To do the lower suspension arm I took the arms off the truck and put them on a rug, so they don't slide on the floor.
A screw press this small really doesn't generate enough power to push these big ball joints in, so some people put a pneumatic gun on the screw. I just tighten it up with the big wrench until the press starts to spring a little bit. Then I smack the press on the end with an 8 pound sledge hammer.
People don't understand how this works. They think you just beat on it like a madman. You have to tune the press and smack it to generate a harmonic motion which amplifies your effort. It's actually kind of musical and when you're doing it right it makes the correct sounds and when you're doing it wrong it makes the wrong sounds.
There is a heavy interference fit on the new lower ball joints, and you have to press them in to this 2 1/2 inch forged steel eye.
It takes 8-10 tons of pressure, Unless you hit that ring up with a torch and make it expand first. I hate to heat a forging up with a torch unless I have to. Plus the paint on my A-frames is still really nice and I didn't want to burn it all off.
All the hard work is now done but I still have to put the last arm back on the truck and reinstall the wheel. I will set it up in the garage and do an alignment with some kite string but next week I can take it in and get a "digital"front end alignment.