I recently purchased one of the tanks that I have always wanted. It's a star fire 220 gal glass tank that was only a couple months old when the previous owner came back from a cruise to a horrific smell in his home. The return pump in the sump died and so did everything living in the tank. It was setup as a reef tank and he lost thousands of dollars of corals, frags, fish and live rock. The person decided to throw in the towel and I took it off his hands. I am going to use this tank and sump for a heavily planted discus tank.

The tank has 2 overflow boxes and these overflows have an outer layer and an inner layer with a space between them about a quarter of an inch in width, The inner is silicone to the back glass the full length of the box and so is the outer layer. The outer is also sealed to the bottom of the tank as well. Since this tank was used for saltwater it has all the calcium scale deposits in the gap between these layers. How am I supposed to clean this area and get rid of these deposits? I have seen overflow boxes that open like a hinge door for cleaning but these aren't like this. Only way that I can see to do this is to cut the seal around the outer layer, down both vertical edges and then across the bottom. However there is still a problem with this method. Looking down at the gap between the outer and inner layers there are spacers down the center every 6 inches or so to maintain the space between them. There are no screws or other visible fasteners holding these spacers in place. It appears to be glued or plastic welded which means separating these 2 layers isn't going to be easy, breaking something is definitely possible. I must be missing something because nobody would design overflow boxes like this. Within a year the space between these layers would be filled solid with deposits if doing a saltwater. These deposits are like concrete too. I'm going to cap the holes at the bottom of the overflows and fill them with vinegar and water solution. Hopefully that will make removing these deposits possible? But what would you do if you had the tank up and running and you needed to clean this area out? If you look at the pic that shows the slots in the outer layer at the bottom appear to be pretty much blocked by these deposits. Any help would be much appreciated, Thanks
Kevin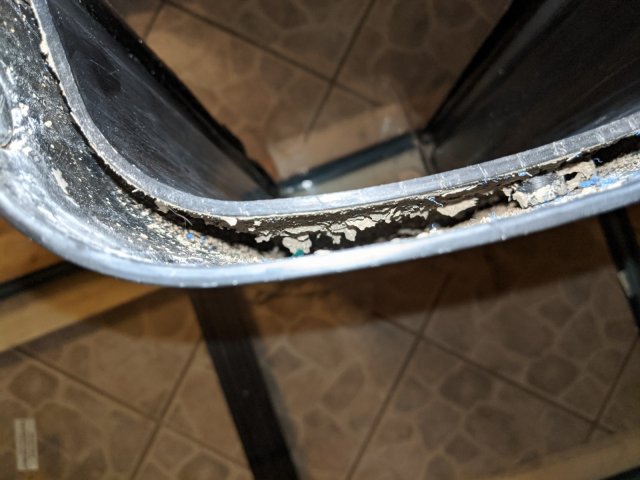 In the above pic you can see the deposits between the 2 layers and also the spacer in the middle that is bonded to at least the inner layer.
The inner layer is attached to the back glass in exactly the same way.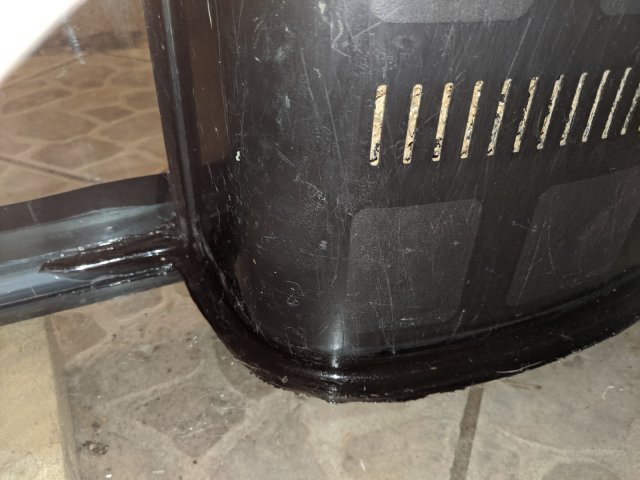 The pic above shows the bond between the outer layer and the bottom of the tank as well as the slots being almost fully blocked by these deposits. I keep thinking I must be missing something right in front of my face, but what??????? Thanks for any help and/or advice.
NCH