Redtail Catfish
MFK Member
Dec 13, 2018
1,756
2,517
154
Mojo the murderer was getting savaged in the living room tank, So in an emergency fish rescue I snagged him out and put him in the Brute sump, outdoors.
If this doesn't make sense, you can look up my Brute sump thread.
Two days ago I heard a random squeal from the condenser fan on our air conditioner; and I know what this means, because I have replaced this fan on several air conditioners over the years.
It was 104F at that moment, And all I could think of was "call the air conditioning service immediately" because they are going to be very busy at this time of year.
Well, amazingly, they were out here this morning and got the fan motor changed for me in just a couple hours! I also have the old motor, which still works, and just needs a new bearing and seal. Man, it's nice to have spare parts, especially simple things I can change, and my air conditioner is going to be good for years now.
But then, a nightmare!
In the middle of the night I woke up to the squealing noise of a tortured motor. "Oh no! The new one is defective!"
I stumble thru the house blindly, only to find the AC completely off, and the squeal is coming from my outdoor pumps. They are dry! O M G !
I go outside to find water has overflowed from the Brute sump, and run all over the patio and down the drain, and the pump chamber has run dry. The first thing I think is, "there's there's a clog in the outflow" so I remove the outflow elbow.
Out swims Mojo the Murderer!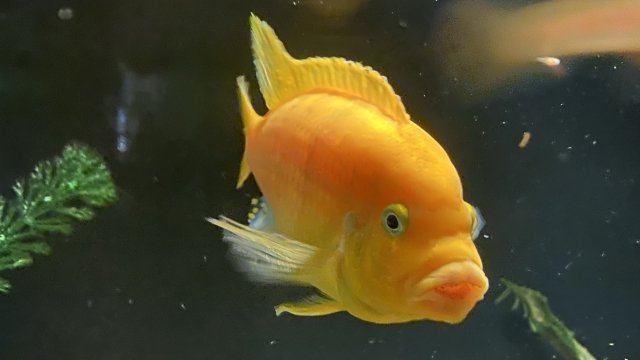 He is healthy enough to dash like mad to the bottom of the sump and hide there.
Anyhow it's 3 AM and I am watching as the garden hose refills my system. At least 30 gallons of water has been lost.
I'm going to go back to bed now, feeling very good that neither the air conditioner nor my aquarium pumps have burned up in the middle of the night.
And Mojo has narrowly escaped death!