Oct 16, 2007
1,787
297
122


Who is Monster Fish Keepers Philippines?
The main core of Monster Fish Keepers Philippines (MFK ph) is composed of the members of the Stingray Club of the Philippines (SCP). The members thereof thought it would be very beneficial to the hobbyists of the Philippines if various fish clubs can be consolidated under one umbrella group (it being MFK ph) so that different clubs could work together and attain the ultimate goal of a healthy, thriving, and working community of passionate hobbyists.
With the approval of MFK's very own, Li, aka, Neoprodigy, SCP was allowed to localize the Monster Fish Keepers Brand and incorporate SCP into MonsterFishKeepers.com, in order to provide a new home for Filipino fish hobbyists.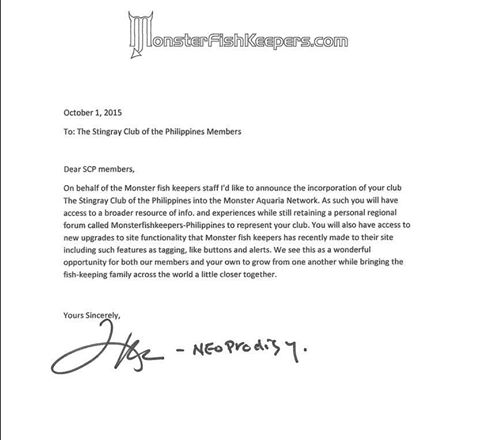 Hence, along with SCP, MFK ph is composed of various fish groups such as Philippine Arowana and Lou Han Society (PALHS), Philippine Datnioides Group (PDG), Philippine Bichir Brotherhood (PBB), Arowana Keepers Philippines (AKP), Cichla Club of the Philippines (CCP), and Community Tank Owners (CTO). These groups agreed to work together to form MFK ph. We participate in various Fish shows, Seminars, Online activities, Sports Activities, Expos and other activities "outside the tank".
Furthermore, due to the initial success of the coalition, more groups are inclined to join MFKph as we speak. We just made ties with Batangas Fish Hobbyists, Pampanga Arowana Fanatics and Monster Fish Keepers - Negros. These are local groups based on various provinces and regions of the Philippines outside the capital.
To hold our end to promote the Monster Fish Keepers brand, we have been featured in news papers, and magazines of general circulation. MONSTER FISH was even made to be the cover story of the January Edition of Animal Scene, the Philippine's premiere pet keeping magazine. Furthermore, MFKph has been featured in various TV shows at various times such as Alagang Magaling, Born to be Wild, Matanglawin and more, effectively making the brand "Monster Fish Keepers" a household name to all aquarists in the Philippines.

MFK - PH Mission statement

"Our main purpose is to promote and together learn through discussion, sharing of experiences, knowledge, pictures and videos of unique and magnificent world of Monster Fishes which are increasingly kept in aquariums and backyard ponds giving challenge to those who dare. Also, this club aspires to create camaraderie and connections among hobbyist."

Whats our GOAL?

Our main goal is that together with MonsterFishKeepers.com, we are able to put MFKph on the map of the hobbyists of the world. In doing this, we promote camaraderie amongst our members and love, passion and dedication to the hobby.
As our battle cry, we always say that;
MFKph is #LoudAndProud and #EPIC in everything we do.
Let's all help make the fish keeping community of the world a little closer