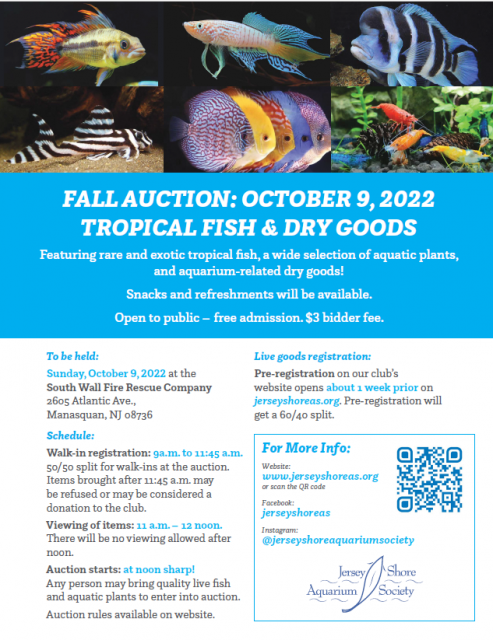 The online form to pre-register fish and plants for the 2022 FALL AUCTION is up and running on the website. In addition, up to 10 used dry goods in good condition can be registered. Pre-registering will get you a 60-40 split. We will post pre-registered items on the website in advance of the auction.
Here's the link for registering for the auction:
http://www.jerseyshoreas.org/newregister.php
To see a list of registered items,
http://www.jerseyshoreas.org/mainauctionpage2.php
After registering your item(s) you should receive an e-mail showing which items you registered (Check your junk folder if you do not receive it)
You can also check what you registered at any time by accessing the auction page and click the link for Check what you have registered
The auction will start at 12:00 pm sharp! Viewing will start at 11:00 am and close at 12:00 pm.
The Auction will be held at:
South Wall Fire Rescue Company
2605 Atlantic Ave. in Manasquan, NJ