Gambusia
Original poster
MFK Member
Nov 11, 2018
38
9
8
28
Gender

Male
I am so lost and confused now. I have no idea what is going on.Instead of typing a long ass story I'll give you the tank info and main points, pictures to follow.
Tank: 55gallon
Inhabitants: 1 x Kamfa Flowerhorn (5-6 inches at a guess)
Substrate: Pewter Sand
Filters: Fluval 306 and Large sponge filter
No Plants
Water changes: 20-30% every other day, including top offs when condensation occurs.
Tap water pH: 7.2 Tank pH: 7.2 Ammonia: 0 Nitrite: 0 Nitrate: 10-20 (Cycled)
Water conditoner: Seachem Prime
Tank temp: 28 celcius (need a second heater to raise to 30 which I will have at the weekend after I have been paid!)
- Fish arrived a day early and I wasn't prepared so he arrived and I still had other stock in the tank and I had no option but to acclimate him with the other stock. He ate 5 of 6 Harlequins overnight. The stock was all rehomed the following day. There was plants and rock in the tank at this time but they were removed when the rest of the fish were rehomed.
- First week I had him he wouldn't eat at all, then he started of week 2 by picking the food then spitting it out, eventually he has started eating 2 Bug Bites pellets a day by the end of week 2. Fish colour was fine, behaviour he was shy and timid and scared.
- During week one I tested water parameters and found 0.25 ammonia. I followed this by a large water change and haven't seen any since. Tank was pre cycled before hand so something set it off into a mini cycle at that time.
- pH has dropped twice to 6.0. First time was a few days after rehoming the previous inhabitants, second time was just at the weekend there. Used baking soda to up to regular pH. I should note when originally cycling the tank about 6 months ago, this happened too however I upped it via baking soda then and it never dropped afterwards.
- I have been feeding him 2 pellets in the morning, followed by 2 in the evening for the past week and he has ate them all.
- I noticed white poop. It was sort of a brown ball with white stuff around it. I dosed the tank with Praziquantel however I forgot to take the carbon out the filter like a right idiot.
- Noticed a mark on his skin a few days ago, day 2 or 3 this has now enlarged ( see pic below), My first thought was heater burn but I am not entirely sure now to be honest.
- Seems slightly lethargic however still active and aggressive.
- Started treatment of Seachem Paraguard last night 5 caps is the recommended dose size for my tank, I intially started with 2 caps, then another 2 caps this morning. I removed the carbon this time. Since starting this last night, There has been excessive amounts of white poop hanging from his anus, some with brown bits some not. It stays for a while then falls off, is this the medication working or has it just accelerated whatever is wrong with him?
- Since starting Paraguard treatment last night, his behaviour seems different and he will sometimes float vertically near the surface for a few seconds every 15 minutes or so. I have not fed him during this time. Tested water this morning and parameters are fine.
Pics of mark on his skin first day: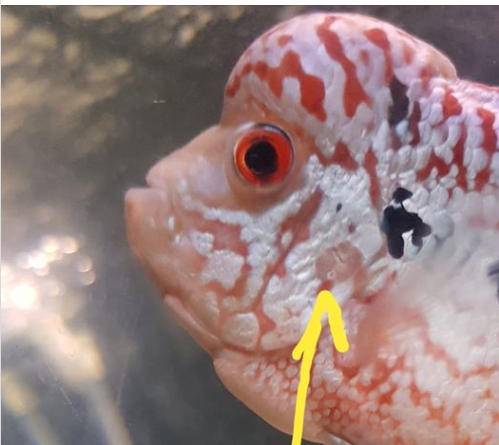 2/3 days later:
Tried for a pic of the white poop but its practically impossible. Its hair like and see through and maybe about a couple of mm in length, there was longer ones during the night.
Here is a video just taken of him:
(Ignore the background audio, watching a live stream)
This is stressing me out big time to be honest, and I am getting frustrated. I I have meds here - Melafix, CLEAR, Paraguard, esha Hexamita and Zedrix Guardian.
I just want to get this sorted so he is healthy, happy and eating then I can focus on getting him to shine.
Many thanks