Fire Eel
Original poster
MFK Member
I dug my pond in 2011.
I stocked it with:
Channel Cats, Copper Nose Bluegill. I also introduced Glass Shrimp and Mosquito Fish prior to stocking
Nature stocked it with:
Large Mouth Bass, Goggle Eye, Various minnows and Bowfin.
No body of water drains to my pond, other than my property and the 5 acres next to mine which has no ponds. I assume the fish got into my pond as eggs that stuck to the legs of birds as the walk in the water through grass and fly from pond to pond.
I designed my pond to have a lot of protected shallow breeding ditches. The ditches were dug completely flat with a large track hoe using a laser level. The pond is pretty small, but it is very deep. It is 30' deep. 30' is over three stories deep. Before it had water in it, it looked like a meteor struck.
I am going to try to get the bowfin out, or at least knock down the population, because they are killing my population of wanted fish.
I want to stock it with various types of fish. Sailfin mollies for sure. I consider my pond to be like a giant sunken aquarium. The Google Earth Image I attached is over 2 years old.
QUESTION:
What are other (legal) cool and awesome native fishes you can recommend I add to my pond?
There was a mis-type on the image. The ditch, not the pond is intended as a breeding ground.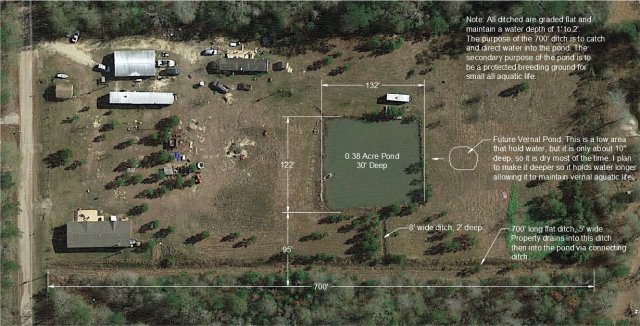 Last edited: