Here is some info and pictures of a tank stand I built for my 180 gallon acrylic tank (6' x 2' x 2').
For those on bcaquaria, you are already familiar with this build, as my wife Anessa posted some of these pictures there.
We bought the tank used for a good price. It didn't come with a stand, but that was okay, as I wanted to build the stand myself. As with many on this site, I wanted to over-build it so that I'd never have to worry about it. I also wanted to do a custom build, as I planned to have a second smaller tank under the main one on the corner.
To do the design, I used Google SketchUp, which is a simple to use, free 3D design program that you can download here:
http://sketchup.google.com/download/
.
Here is the SketchUp file of my
tank stand
. Feel free to download this and do whatever you want with it. You could use it as a starting point to design your own stand, or just to see what I did.
... some screenshots of the design:
The stand is framed of 2x4s with 4x4s in the corners. Some of these are notched so that all weight is borne on solid wood, not screws. The skin and trim is 1x4s, with the top, base, and some walls of 1/2 inch plywood.
Here's the actual stand frame under construction:
The frame was glued and screwed together with long wood screws, through guiding drill holes. The notches in the 4x4s and 2x4s were cut on a table-saw so that they are all square.
Here is a shot of the completed stand before painting:
The trim was glued and attached with finishing nails. In this shot you'll see some of the tools used to make the stand square: a level and a carpenter's square.
More Photos showing the doors: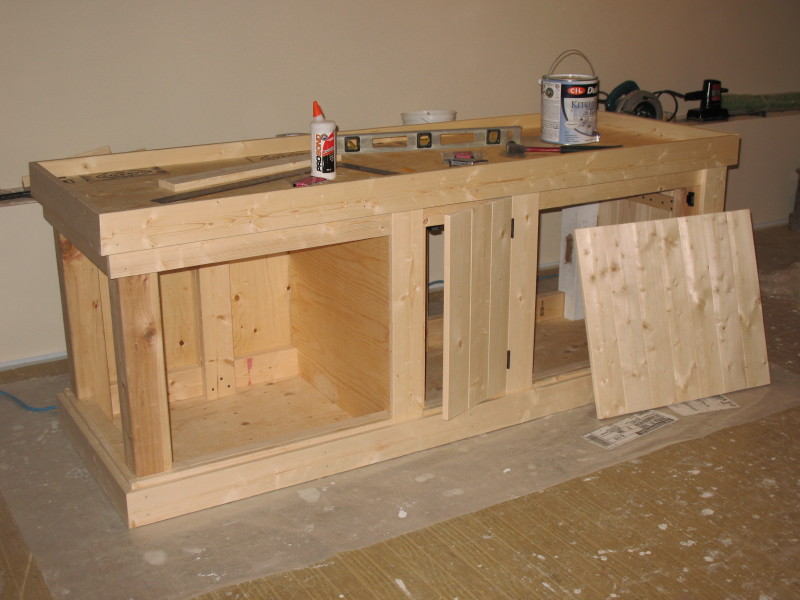 The smaller door in the middle at the front is for access to the sump pump and storage for food, nets, etc.. The other 2 larger doors are for access to the sump, and are attached via magnets. This makes for very easy entry as you can completely remove the doors while cleaning the sump.
On the bottom left side of the stand, I planned to put a smaller tank. Here are 2 photos of the floor insert that raises the tank up for better viewing:
I didn't screw this down, as it's made to be adjustable and removable in case of a leak or spill.
I mentioned that we bought the tank used.... There were some scratches that needed removing, so we purchased some Novus Polish and a used car polisher to buff up the tank. Here's me at work:
Before I started, I had researched online to find out the best way to fix scratches in an acrylic tank. Novus and a car polisher were recommended by many. It worked very well, so I recommend this too!
Here is the completed tank and stand before filling:
You'll see the smaller tank at the bottom. This is a 22 gallon bow-front and it looks great on the corner for viewing from two sides.
Filling the tank to test before putting in substrate and plants:
If you don't yet have a Python, get one. In this photo you'll also see the sump with a trickle filter of bio-balls and Magdrive pump (1800 gph).
Here is right after filling again with substrate:
And plants:
Lighting is provided by Coralife power compacts (one 4ft and one 2ft attached together). The water cleared within an hour or so.
This tank was set up to provide a new home for my flagtail prochilodus who I call "Murphy". He's about 11 inches now and growing. We have our clown loaches and bala sharks in here too now, as well as denisonii barbs, bushynose plecos, and harlequin rasboras.
Here are some shots of the inhabitants:
Murphy with friends.
Hanging out by the driftwood.
Swimming with the loaches... balas in back.
And a full tank shot:
At this point, the bottom tank was not set up, and the denisonii barbs has not yet been added.
Here is a recent shot with both tanks set up:
We are currently using the bottom tank to attempt to breed rainbows.
Well, this has been a long post, but I wanted to put it all together so that you can see all the stages of the project without interruption.
That's it!
-Trevor