Catfish God
Staff member
Moderator
MFK Member
Oct 10, 2005
6,641
490
146
40
Hello everyone. I toyed for years about making this thread. After my long absence from here I have decided it's time.
I no longer have any live fish. Someday I will again but I need to be in a better place first with more $$$. Currently I'm working from my friend's house. Who was kind enough to let me stay while I try to rebuild my life. I have no car currently either. What I do have is a drive to go up from here and build a better life for me and my daughter.
What does all that have to do with fish skulls and skeletons and this thread? Well this is to be kind of a diary of my work on fish skulls and skeletons with a splash of other animals as well. I've been collecting and cleaning skulls and skeletons since I was 15. That's over 22 years now. For the last few years I've been cleaning and selling skulls on the side to help make ends meet. I do commission work for pet owners, fishermen, hunters, museums, ect. I walk larger packages for my customers 3 miles to the post office and back several times every week.
After my pet store shut down two years ago I was left in worst financial ruin than I was in before. Since then the skulls and skeletons have been my only source of income other than odd and end jobs.
In other words this thread will be a Pic heavy journal with background info on the animals presented. My hope is that we can all learn something from this. I do have a couple of special fish that I will post up here that will surely make some of you smile. My hope is to make these animals beautiful again. Hopefully to inspire others and bring them joy even after the animal's unfortunate deaths.
I will post some teaser pics today and hopefully make better posts in the coming days. So follow this thread if this sounds interesting.
As a note please be warned that you will see pictures of dead things and possibly anatomical photos of various internal structures. So basically there is a potential gore warning in case you are sensitive to those types of pics.
Also as another rule. Anyone can post up their fish skulls for all to see also.
. Just try not to spam too much. I do many species other than fish also so let me know if you guys would like to see those as well. I have many thousands of pictures of hundreds of species skulls and skeletons. This could prove to be a very long thread that hopefully goes on a long time. Please contact me privately if you wish to donate a fish or inquire about having one done up. I want to keep this thread entertaining and educational.
Some teaser pics.
First is a Lingcod (Ophiodon elongatus) I'm working on. This is a commission for a fisherman. I have 3 total I'm doing. All decent sized. This one's head is the size of a football.
This is a Norther Pike (Esox lucius) I have a massive one that I'll be working on soon as well.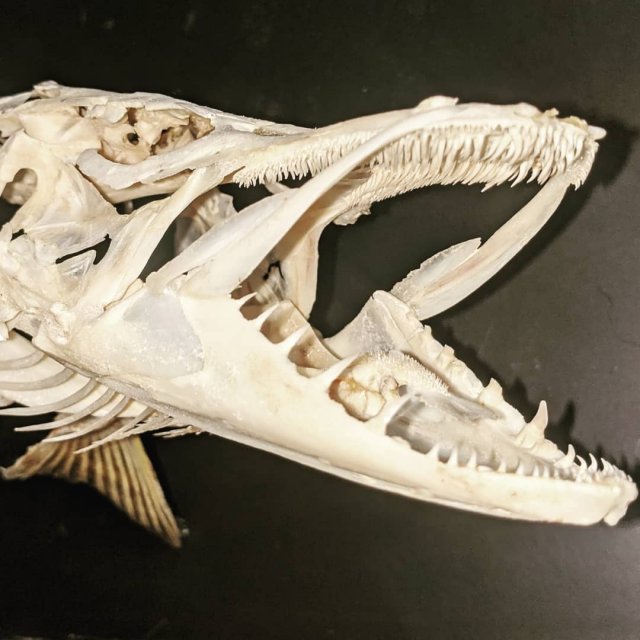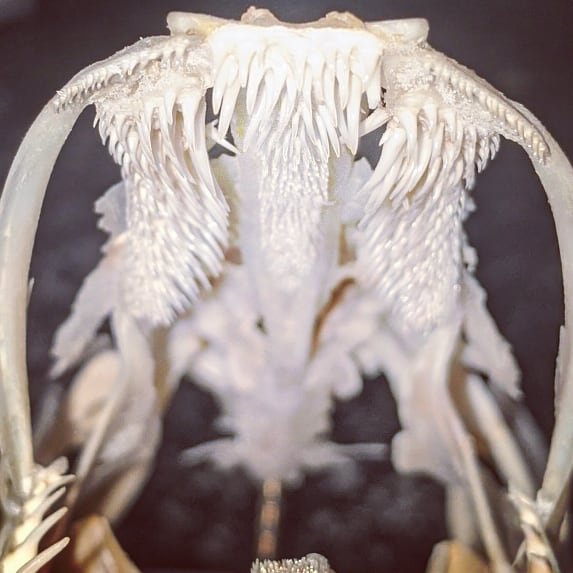 This is a fish by a few names Burbot or freshwater Ling (Lota lota)