Gold Tier VIP
Original poster
MFK Member
Dec 31, 2009
10,494
7,354
3,865
Currently we have one male and four female 2.5'-3' Oxydoras niger swimming in one of the 4500 gal, three rescues and two that I raised myself. The two of mine I bought around 3 years ago at ~3". They are 2.5' today.
The first rescue is named Gee and has been with us for 2 years. It had spent 25 years prior to that in a 6'x2'x2' where it reached 34" and could barely turn around. When you see Gee in the video, you will note that its tail and caudal peduncle are disproportionately undersized w.r.t. its body. That's likely from not being able to swim for 25 years. The water test logs of the previous owner also showed that 0.25 ppm ammonia was typical and 0.5 ppm was not rare over the 25 years. This speaks to an amazing resilience of this fish. I was afraid it wouldn't be able to adjust to new water after all this time in rather poor water but, surprisingly again, it's done well in our tank. It was heartbreaking to see how it had to learn to swim again. Nowadays, it hogs food and has grown a huge beer belly as a result as you will see as well
Another rescue is called Spike and came from a 400 gal tank from our colleague Sean in Ft. Myers, FL, who donated all of his fish to us. This was in Spring 2016. Spike was about 2' and quite round / stubby and it has quickly added 6"+ in our 4500 gal tank.
And a third rescue (from about 1.5 years ago) appears to be the only male in this quintet because it has the thinnest build, smallest circumference. I wonder if you can spot it in the video. His name is, unsurprisingly, Maniger. Close to manager... hehe... of course he is not... Gee is... He was about 16" at the time of transfer from his hometown of Orlando FL and today is 2.5'.
Also, I bought three ~3" Pterodoras granulosus from snookn21 back in Aug 2015. Their varied growth surprised me. They are 18", 13", and 10" (eyeball) today. The 18"-er's sides are very wide and it resembles an (american) football.
Needless to say they all are huge vacuum cleaners. They'd rather clean up only pellets but when they realize that pellets are no more and baitfish is being served now they, perhaps begrudgingly, suck in the fish too. They are very gentle giants, never hurt any tank mate or their kin.
Gee in its prior tank 6'x2'x2':
Gee in our 4500 gal, photo from 1.5 years ago:
The pair I raised, 3 photos from Feb 2015: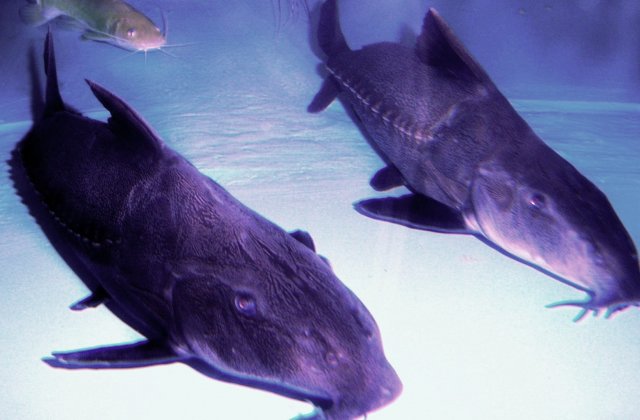 5 year old 3' niger named Hoover I bought from George Fear (Shark Aquarium) in 2009 for $300. This was back when we used to live in Rochester NY. Hoover is in a 4000 gal 40'x6'x2.5' basement pond. I lost Hoover on the move to FL in 2011.