Hey everyone,
Had some scaffolding up the other day so I took the opportunity for a full pond pic from above.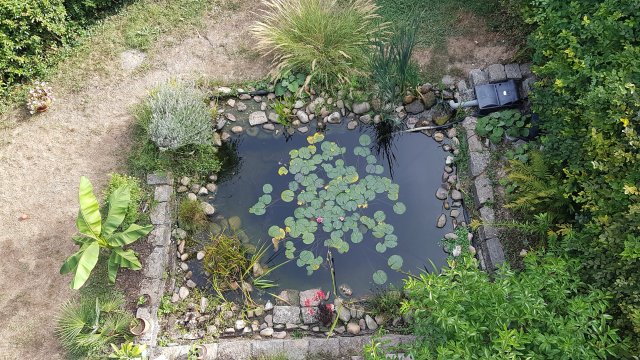 Planting the Musa Basjoo (a cold hardy yet barely edible banana species) on the left was a great idea as it gives some verticality to the whole layout + obviously looking very tropical.
Also took some pics of the bigger fish, excuse the awful quality but it's hard to photograph moving animals from above especially with the glare the sun produces.
Group pic. You can see my mirror carp and all three koi, the one on the right I didn't get an individual image of since it's rather skittish and dark. It's a bit of a runt really, having stopped growing well before the others and as I said it's appetite and personality aren't that of the others.
My big mirror carp hoovering up some pellets. My biggest and favourite fish ever.
Ochiba Shigure. The youngest of my large fish at about 5 or 6 years. The other 3 I have had for a decade now.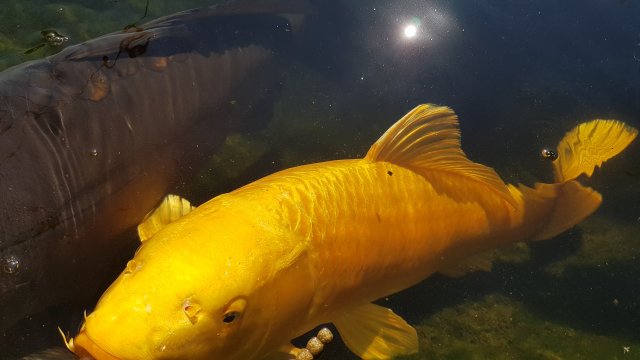 Yamabuki Ogon. As you can see it's not much shorter than the mirror but, as is typical for koi, a lot slimmer.
Terrible pic of my tench but I thought it's interesting since it has completely bleached and lost its golden colouration during this summer. Very common in goldfish and koi but the first time I've ever seen it in a tench.
Hand feeding the Carp. For size comparison, that's my hand and I wear XL gloves. It's huge.
I also have a larger Rudd leftover from my old swarm which I can never photograph and a bullhead which I haven't seen all summer, I hope it's fine.
Finally some random flower and wildlife pics.