Dovii
Original poster
MFK Member
Cichla Temensis Update from December 2017 to present. Sorry for the grainy pics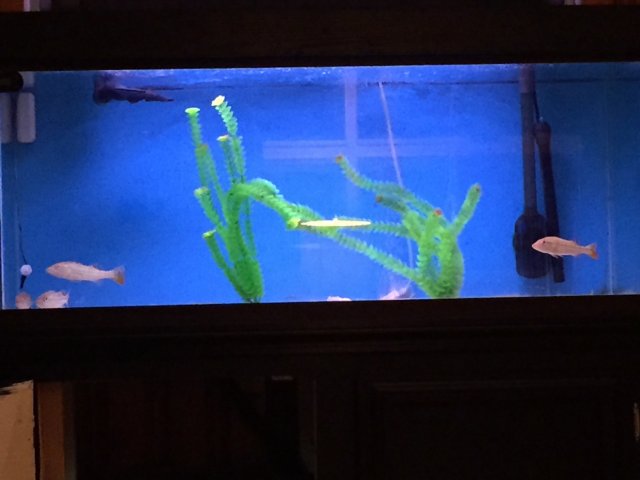 Mid December 2017 in a 75 gallon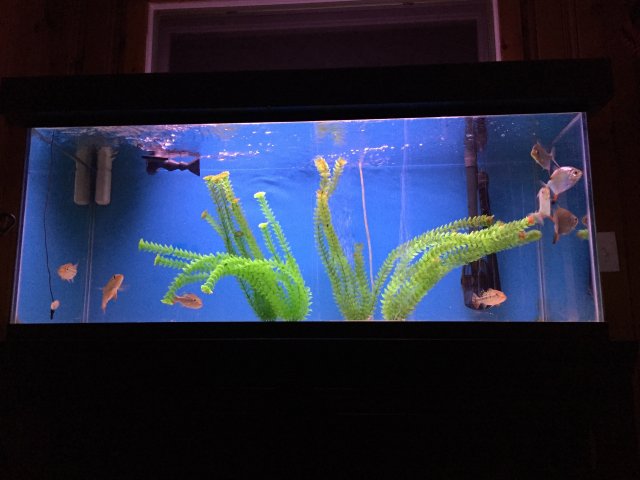 January 3, 2018 Silver Dollars added as Dithers


Last Day in the 75 right around 8-9 inches. The Silver Dollars also gained significant size March 12, 2018


Moved into the 300. March 13th, 2018



March 13th, 2018 Black background shows there colors much better than the blue.

Observations:

After moving them to the 300 i noticed immediate behavioral changes. Absolutely 0 aggression in the larger tank. This is true for both silver dollars and the Bass. In the 75 the Bass would constantly peck at each other and the SD's. The SD's would constantly peck at each other as well. In the 300 the bass seem much more relaxed and school together for the most part. The SD's also school as they are supposto. Overall the fish are way more relaxed.

Problems:

I am doing an instant cycle on this system i took the baskets out of the FX5 from the 75 gal and put them in the 200 gallon sump. I checked the Ammonia about 18 hours after i transferred everything and it was at .25ppm. I figure I'm going to go much lighter on feeding until ammonia goes down to 0. Also if it reaches .5 I'm going to crank up the drip system. Overall the total system volume of 500 gal is definitely saving me.

Conclusions:

The Bass have grown at about 1 inch per month in 25 to 40 ppm nitrates. The behavior changes are the most interesting. a 300 gallon has a much larger footprint than a 75 however a 300 is tiny compared to the wild. I just didn't think the tank size would have that much effect on the fish behavior.

​