Dec 13, 2015
3,743
1,683
164
This is a thread I never got around to posting, but after he passed, I realized this story is long overdue.
He passed away from swim bladder issues. I'm not sure what caused it, although I believe the water change may have been a factor. This was only the second time I did an 80% water change (just got the water change pipe extended), and the water comes straight from the tap, so I can't control the temperature.
Onto the story:
I've always liked my largest Bala Shark. He was full of personality and character, greeting me when I walked near the tank, following my finger on occasion, and a couple times he chased away a Firemouth that was bullying an Angelfish. One night of December of last year, he decided to swim into a bottle I used for the BGK to eat blood worms from. This didn't end well for him, as he got stuck in the bottle overnight. When I checked on the tank in the morning, I found him stuck in the bottle, with the edges of all his fins frayed, and his tail fin, along with the portion of his body closest to it, turned white. I actually wasn't even able to pour him out, I had to cut the bottle open with a box cutter. It was very stressful trying to cut him free, as cutting him wouldn't make his situation any better.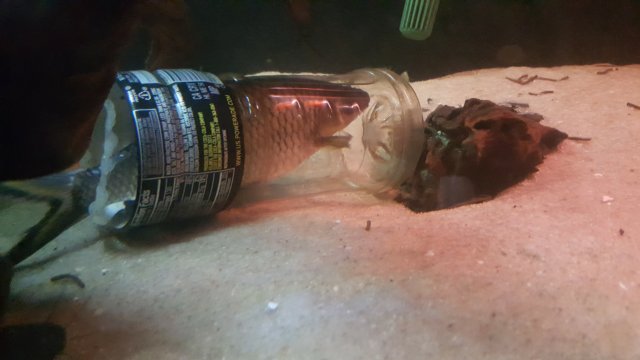 My best guess at what happened to his fins is they were frayed from rubbing them against the bottle while struggling, and the tail died because the other fish pecked at it. A few days after this incident, the white section of his body became completely covered in fungus, and over the course of a few days, the fungus died, and his tail and the dead scales slowly fell off. It wasn't in large chunks, but enough for me to notice a difference with each passing day. About a week or two after he was stuck in the bottle, all of the dead scales fell off, along with his entire tail. What was left was the skin under the scales, and a stump were his tail used to be. His skin was white and pink, with the white areas raised slightly higher than the pink. His skin made a pattern that resembled that of tiger stripes, except there was much more white than pink. Over the course of a couple weeks, his skin turned from pink and white to a matte gunmetal grey. After another few weeks past, his scales began to regrow. The only part that remained the same was the stump where his tail used to be; it remained the same matte gunmetal grey as the skin that grew over the pink and white.
Recently there was a growth from the stump, what I believed to be the start of a tail. It grew near the middle of the stump, was shaped like a somewhat flattened cone, and had a similar texture has his fins, just much denser. Unfortunately I wasn't able to discover what the growth was, as he passed away last night. I kept him for 3 years. He was my 2nd oldest fish, with only the Pleco passing him.
Even though he was one of my favorite fish, I took him for granted, which I hate myself for doing, because I only have a handful of direct photos of him, every other pic of him has him in the background. I wish I enjoyed him more while I had him, but at least I'll always have him as a memory.
Before anyone comments about how I should have put him down; he lived fine without his tail. He got around the tank well, ate good, and was healthy.
July 9, 2016:
My most recent picture of him before losing his tail.
December 16, 2016:
The morning I found him in the bottle.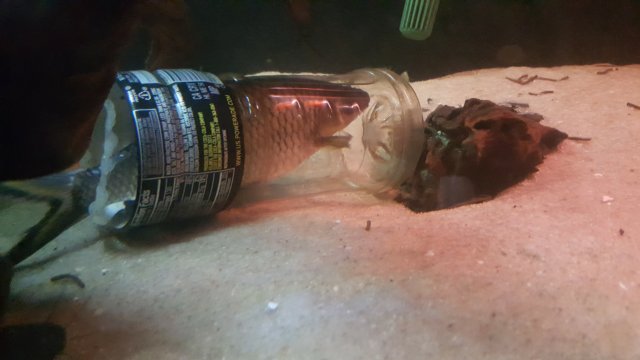 February 11, 2017:
I had to crop this image to make it easier to see the Bala, which is why it's blurry.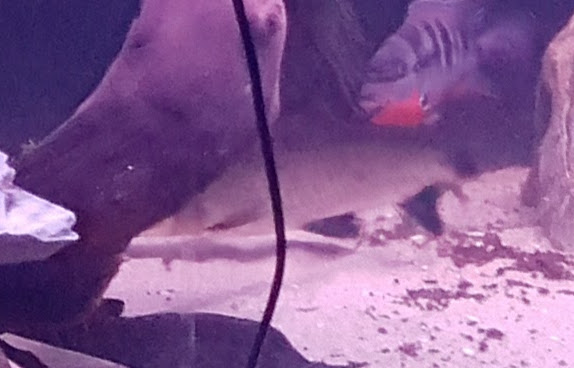 April 24, 2017:
This was when he was photobombing the Flowerhorn. Although blurry, you can see the stump where his tail used to be.
June 30, 2017:
July 12, 2017: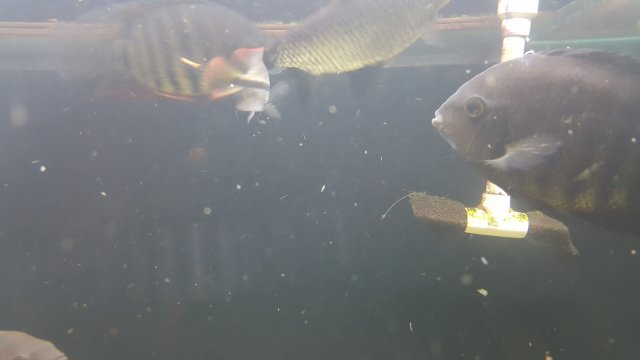 August 28, 2017:
In this picture you can see the growth I mentioned earlier.
September 18, 2017:
This was earlier today. I buried him in the backyard because he didn't deserve to be flushed or thrown away. I felt he deserved a proper burial with how much we went through, and how much he meant to me.
R.I.P. Bala. You had a strong heart.