I've decided to start a thread around the progress of my 850 gallon. The tank itself is 11' long by 4' wide by 2.5' tall. I found the tank on a local classifieds ad site and have been told it was originally purchased from Acrylic Tank Manufacturing. Now the tank itself may not be DIY, but every single other aspect about the setup is.
I'll be housing 1 silver + 1 black arowana, 1 clown knife, 1 red belly pacu, 8-12 Kelb/orino/occel/mono/inter/azul/xingu pbass, 1 ornate + 1 endli + 1 senegal + 1 delhezi bichir, 1 tigrinus cat, 1 flagtail prochilodus, and maybe I'll try out rays. Idk though due to bichir chemistry so no promises!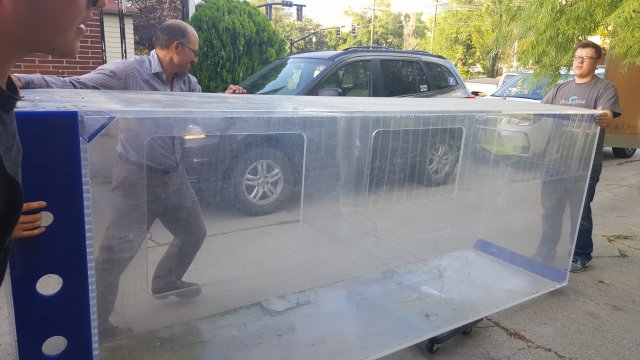 Picking up the tank.
Building the stand. I specifically built the stand into two separate pieces so that it can fit through door frames if/when I ever need to move it.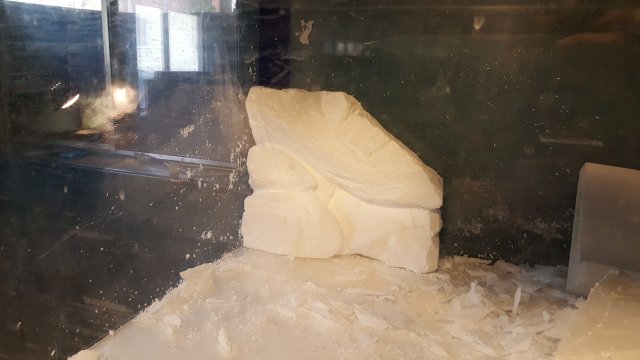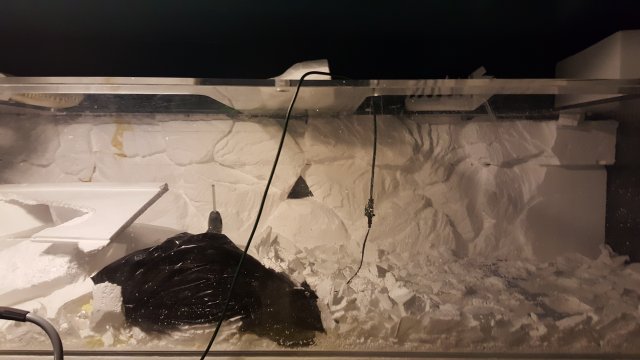 Carving out the background. I used polystyrene, hot glue, and a kitchen knife for this process
I'm really happy with how it turned out!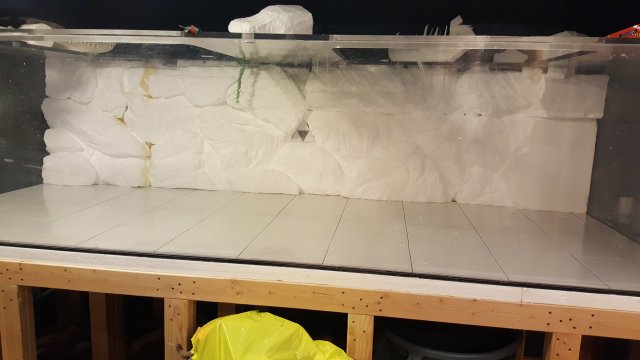 Installing white tile for the substrate. I went with white because I'll be playing around with a lot of RGB Led lights inside and around the tank which will really glow off from the tile. I chose tile simply because cleaning 44 square feet of sand sounds like a TERRIBLE idea and bare bottom is too bland for my taste. Also yes, there is a Triforce in the middle there. I may as well combine my two biggest passions with this dream project
I'm looking forward to seeing it light up! It's going to be between a dragon I'm sculpting and an alligator skeleton (you can see it up on the top there). They'll kinda be fighting over it or something lol.
Here's where I am presently. I've finished the first coat of unsanded tile grout for the background. I'll be applying two more coats of the grout over the week and then paint with acrylics. After the painting is done I'll apply a final layer of clear Pond Shield epoxy as a finishing touch. The colors I'll be going for are similar to the A9 background produced by AquaDecor. I'd post a link but I don't have the privilege yet!
Now let's address the elephant in the room. FILTRATION! I have an overflow on the right side of the tank with two outflows and two returns. I will be creating a sort of DIY sump with 6, 40ish gallon brute waste bins. The two outflows will run down and under the stand to spill into their own respective bins. Each of those bins will have bulkheads near the bottom connecting them to another set of bins on the right. These two bins will act as submerged filtration, with the first mainly focusing on mechanical filtration. Then the second set of bins will have bulkheads at the top into the last set of bins. These last bins will be massive trickle towers which will lead down to a final pair of bulkheads plumbed to my water pumps which will return the water back to the tank. I'd draw a diagram but I'm feeling awfully lazy at the moment
I'll also probably attach another set to the left of the first bins at the very top just in case of an overflow/power outage/drain. I could use a more traditional sump method but as you remember the stand is two separate pieces and honestly I think this method will be a lot more effective. Let me know what you guys think!