Redtail Catfish
Original poster
MFK Member
Feb 28, 2016
3,262
2,111
154
31
Real Name

Travis
Gender

Male
Occupation

Engineering
Hey everyone, I have been contemplating converting my current sponge/floss setup to filter socks for a while now. A few things have kept me from doing it so far. First, the depth that I can have the filter socks reach is a little short. Next, the area in my sump I have to work with is rather small. Finally, I've just not bought anything yet and have some questions on what's best to buy. These are some pictures of my current setup: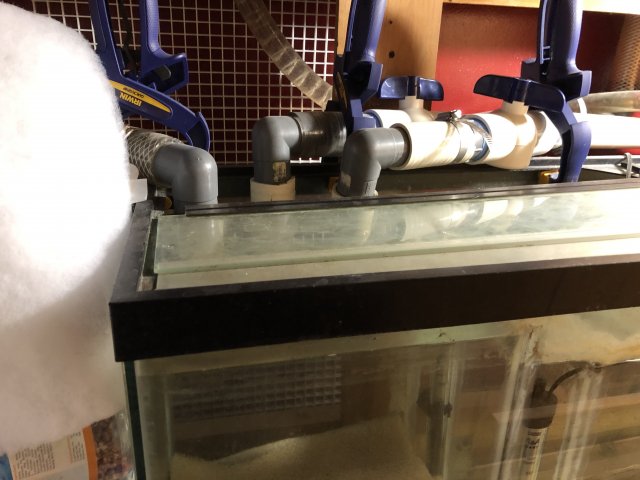 The sump tank is a standard 55 and has baffles in it as pictured. The area of that first chamber is about 11"x11.5"(standard 55 width). As you can see, my current setup uses some course sponges and filter floss. During maintenance I just rinse out the sponges and replace the filter floss with new. The water flows through the sponges, then the floss, and then through my ceramic ring bio media. The bio media is suspended above the bottom using egg crate so that I get good flow throughout its entire area.
What I would like to do is remove the sponges and floss and then put in three sock holders that my current overflows will drain into. The overflows are each 1.5" vinyl/flex tubing. I can add a little bit of length or elbows to them, if needed, to make them reach the sock locations.
Now, for the socks, I'm thinking I will need to go with 4" socks due to the limited area. Then, they will probably have to be 14" or less in length. So far, I was looking at using the $9.99 holders on Amazon (which have good reviews).
My questions are:
Are these filter sock holder fine for what I'm doing or should I get different ones? Are there any that anybody recommends that will fit well on the 55 in the area I have instead of the Amazon ones?
What micron rating should I go with if I get three 4" socks that are about 14" long? I'm not looking to be replacing them everyday of anything like that, but I do want them to be effective. Also, the flow will really only be going through two of the socks as the third will be connected to the emergency drain, which is pretty much always dry.
What brand of filter socks do you all recommend? Not looking to spend an arm and a leg on them, but would like some that will last pretty well.
As always, thanks for the help!