Redtail Catfish
MFK Member
Sep 17, 2017
2,217
3,756
154
Been busy the last week after getting in a new custom-made showpiece tank for my young ~11" Goldenhead Crossback Arowana, which had been in a 4' grow out tank since I got him a month ago.
His new tank is 84"L X 32"W X 28"H (yes I know kind of weird numbers but I could choose whatever I wanted and those are the dimensions I finally decided on -- I don't like too high of tanks, as it makes daily cleaning or just working on the tank harder).
It's 16mm glass, with Euro bracing on bottom edges, vertical corners, top edges and top center so it's pretty stout I reckon. For the tank + simple but strong steel stand it cost me 26,500 Thai baht (~US $815) -- I'm sure a lot less than back home in the US -- though the final product isn't quite as polished: it took me about 2 hours to scrape away excess silicone here and there where they weren't careful).
One of my main goals with this tank is to keep it simple as possible, esp with filtration. Of course most would advise to have a sump for this size tank, but for a couple of reasons I just didn't want to go that route (with one main factor being the tank will only hold 1 Arowana and later at max maybe 2 other fish, so it really won't have a huge bio-load; I also zap out poop with a battery operated siphon before every daily feeding, and likewise feed in a very controlled manner, so there's really no food waste ever left in the tank).
I'll update more on filtration and lighting later, for now here's some pix of the initial install....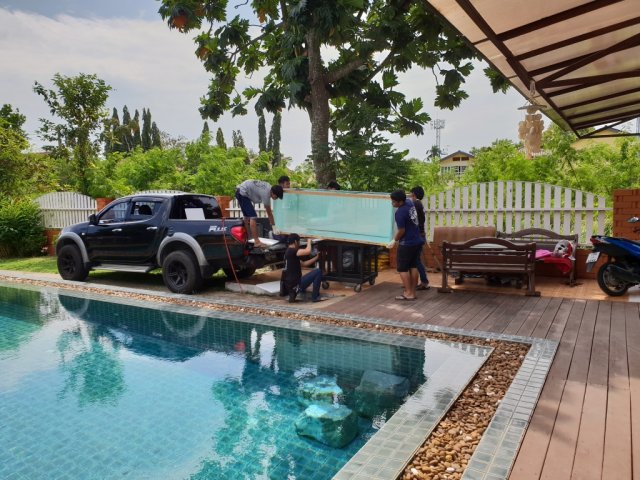 For some reason they put white acrylic bordering around top and bottom edges of tank, but used black silicone! No worries though, I'm going to be covering those with long, half-pieces of bamboo. Also I know many peeps aren't going to dig my choice of background colors, but this is part of the White Tank Treatment (WTT) for my Arowana that I plan to do for ~6 months before changing to blue or black. Some pros would recommend to do this until the fish is about 15"-16", but I don't think I can wait that long, as I also really don't like this white look, but I believe it best for my fish to help his head and back to have more complete shine, so will continue for at least a bit. Of course WTT is a very debatable topic, which I will soon bring up in another thread on Arowana sub-forum.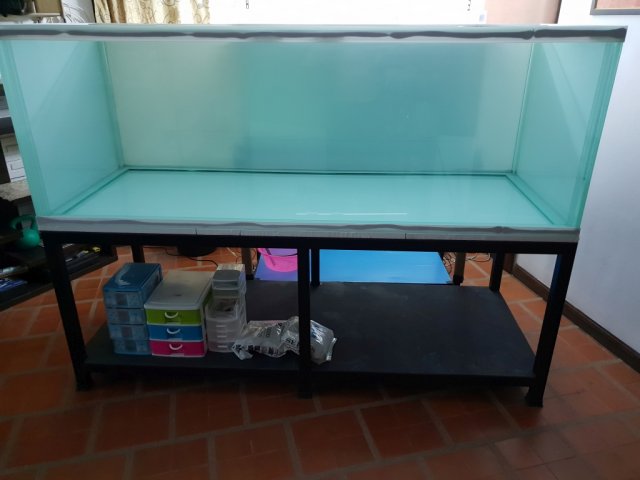 Euro bracing throughout.
Some yoga mats across center braces to help protect my Aro's noggin in case of jumping.