Apr 27, 2018
866
1,641
134
27
Just wanted to hear what people are using as a feeding regimen for their Cichla. What're you currently feeding? How big are your bass? How long have you been following that food plan? How does it compare to other feeding patterns you've used? Or anything else you can think of sharing in the general area. This inquiry is for pellets, prepared, and non-live foods only as I refuse to feed live for multiple reasons. But, to keep the peace we'll say its due to the fact it would lend no valuable insight. As I'm sure many of you know this area of the aquatic hobby is very interesting to me and one of the areas I'm constantly working to streamline and maximize using my own experiences.
I currently have two tanks housing PB's, One being my adolescents and one being my growouts.
Adolescent Tank (2 sp. Broko 12.5"-13.5", 2 Pinima 11"): 5 micro feedings & 1 full feeding a day, 6 days a week. The five micro feedings are an assortment of three pellets (an immune booster, a color enhancer, and a fiber/protein) and are usually about a third of a hand full with a final feeding of 25% pellets 75% market shrimp around 8pm.
Growout Tank (4 Intermedia, 2@5" 2@3"): 3 meals of market shrimp 7 days a week with pellets slowly being offered to convert them. The first two meals being moderately sized with the final meal being as much as they can eat.
The feeding patterns used definitely increase nitrate production in the tanks but I have changed my water change schedule from 50% every 7-8 days down to 60% every 5 days to compensate. This way I'm still able to prevent nitrates from ever rising above 10ppm.
The growout tank is fairly new so I cant comment on the effectiveness of this meal plan yet. However, regarding the feeding schedule in my main tank, I am seeing multiple indicators that, after about 1.5 months, my current plan is surpassing my previous method of 2 solid meals a day. I not only notice a more significant growth rate, but the bass are also becoming more heavily bodied, putting on mass in more ways than just what the skeletal growth allows us to observe. They also seem to have a higher energy level throughout the day and colors seem to be developing faster than before in both the pinima and brokopondo species.
As an example, my female brokopondo has had a "bland area" near the top quarter of her body. though the other broko has colored up completely, with the previous feeding pattern never assisted in her finishing her coloration. I assumed that that was just how she was going to be and was the luck of the draw. She stayed like so for roughly 5 months or so, 3.5 months longer than her partner took to reach full coloration and still she showed no signs of the pigmentation increasing anywhere on her. After changing to my current feeding plan, a little over 3 weeks in my females coloration seemed to fully envelope her overnight. It was such a significant change I had no doubt it was, at least to some degree, attributed to this feeding overhaul. It was much faster and concentrated than any natural color maturation Ive viewed in the past in any bass Ive kept. My Pinima have also seen a more intense depth of pigmentation to their natural pattern that could possibly be from maturation but has also sped up exponentially compared to the previous 2 months I owned them. Pictures are attached below as an example.
Hope to get some cool insight from the rest of the community! Share your sagely wisdom with the rest of us.
Here is a picture from late February of both one Pinima and the female Broko. You can clearly see the "bland area" Im talking about on the female.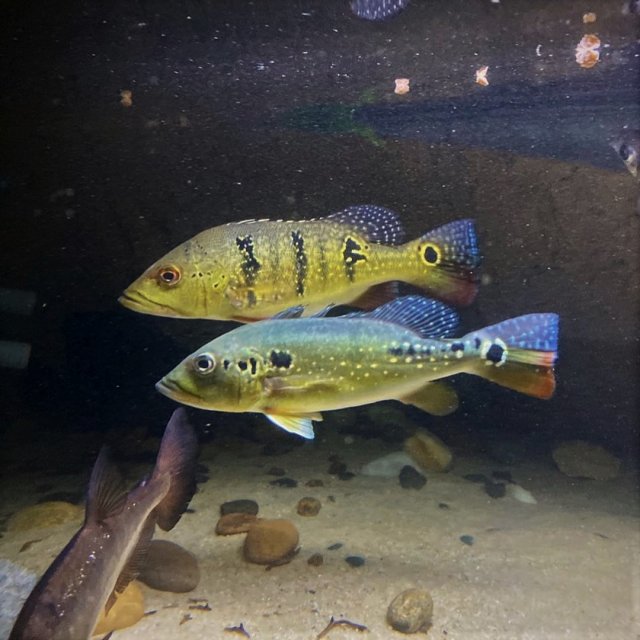 Here are two pictures I took 2 days ago of both the Female Broko and the Pinima. As you can see the coloring has improved. I havent made any changes to the tank lighting that could account for this but I have invested in a better camera haha.