Redtail Catfish
Original poster
MFK Member
Sep 17, 2017
1,195
1,783
154
Real Name

Barrett
Gender

Male
Oh it was going to be grand! Just getting ready to post some pix about my new Blue Base Xback Arowana and her new 325 (84X32X28), which is a twin (except color scheme) to the 325 I recently set up for my Goldenhead.
Yes, in my mind trumpets would be blaring and the townsfolk lined along the avenue to cheer my newest acquisition... But alas, this story didn't quite turn out be such a fairy tale.
Day before yesterday I was just on that fringe of waking up when I heard an extra sound of trinkling water in the next room that was out of place. I jumped up and ran into the Blue Base's room to find this...
Leaking tank with a nice big crack in the bottom! I've never had anything happen like this, so was in a panic for a minute or two. I put a tub under the main leak, then called my LFS (which sold the tank to me) and asked them to get a crew over ASAP.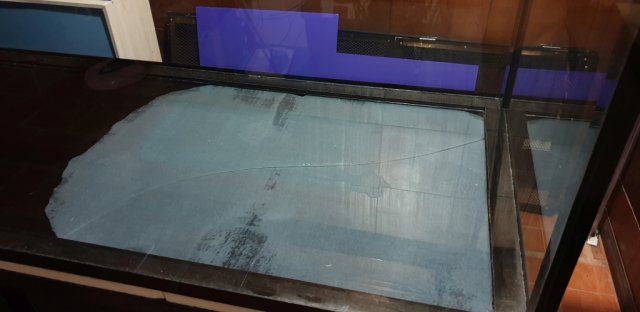 Then I started filling the 4' grow out tank (same room), which had been the Blue Base's temporary home for the past 2 months. I also took out the big sponge filter from the cracked tank and put it into the smaller tank (which in hindsight I'm very happy to have had as a back-up, as it took me a couple of hours to get the rest of the filtration (canister + trickle filter) transferred over.
The LFS crew arrived in about 20 min. First order of business was to transfer the Aro over to her old tank, which luckily went very smoothly -- in fact the Blue Base was very calm throughout the craziness, which was a big relief.
They got the remaining water out of the tank pretty quick with a big pump and also did a good job of totally cleaning up all the water on the floor, while I continued working on getting filtration set up.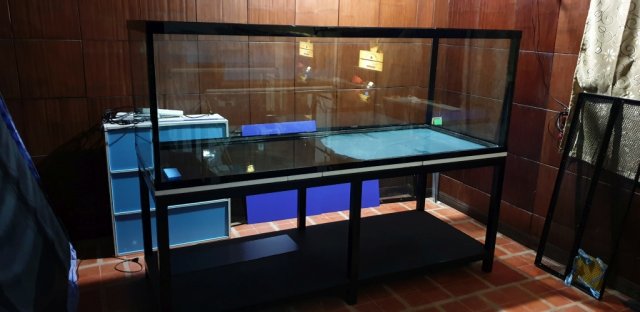 And without me even raising the subject they said they'd take care of the situation, either fixing this tank or making a new one depending on what they find after more investigation as to the cause. The tank was installed 18 days previously.
When they originally installed the stand and tank we checked they were both level -- and while there was some slight variation in a couple of places, it wasn't significant at all (leveler bubble was not touching the lines on either side anywhere on the tank).
So at this point we're really not sure what caused the problem. They came the next day and took away the tank and stand, tomorrow they'll update me on how we'll proceed from here, but they have said they'll have it repaired or replaced within 2 weeks tops.
After all the work I put into setting up the tank I'm very disappointed, and I feel sorry for my Aro, I'm sure she's isn't thrilled to be back in the smaller tank, but it is what it is, and at the end of the day it could have turned out much worse (e.g. a total blowout or even a bigger leak that would have complicated the transfer process). Also so lucky I was home at the time and that I woke up quickly (maybe only about 5-10 min. after it started leaking).
What made it all harder was that I had a wedding to conduct in a few hours, so I was under pressure to quickly get everything set up on the old tank, then hurry like a madman to get to the resort venue on the other side of the island in time.
Despite the inconvenience though I'm glad I had the wedding booked -- it reminded me that despite my stressful and disappointing tank mishap, the world's not an entirely screwed up place.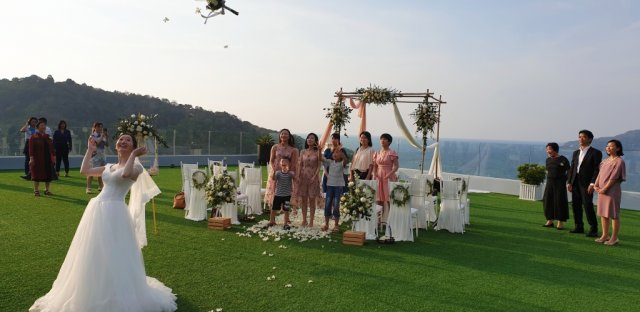 Finally I have to say I kind of wish this actually happened to the Goldenhead's tank -- then I could change the stupid white oyama stickering on the bottom, but oh well, you can't have everything.