Dovii
Original poster
MFK Member
Dec 13, 2018
761
728
100
Real Name

Puddin'Tame
Gender

Male
Occupation

Retired computer bum
Designers and Builders: Your opinions and advice are earnestly requested in the planning of my first monster build. I have previously made and customized some small systems. This will be a departure from a life of keeping many small fish, to mainly keeping cichlids like Cromwell here.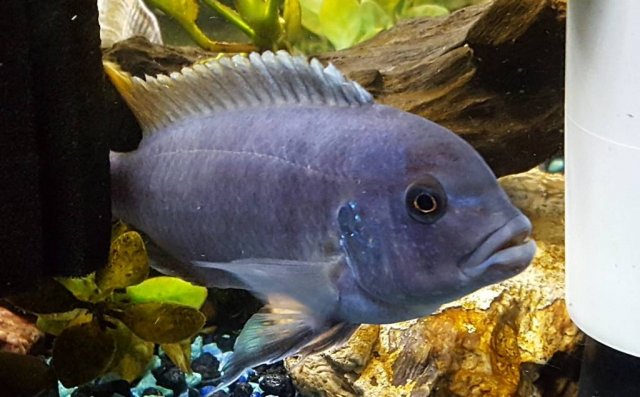 I am retired, and nowadays I play with my grandkids and my fish, and build or customize various things for amusement. I managed IT for an engineering company and was a project engineer in the glazing business. I have never built a big tank from scratch, but time is available now.
I probably won't build the tank itself. A new 100g tank locally is only $432 with tax. It's so cheap, I am tempted to not go larger. I plan to have big sumps. Right now I have 12 glass tanks and some bins.
These two 55's are currently my largest.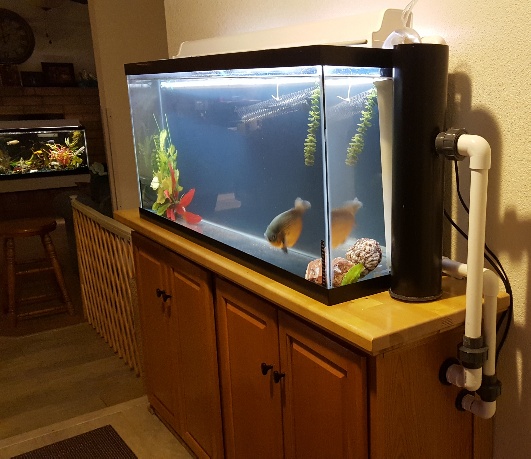 Felix the Oscar lives in the foyer and has a sump. My mixed cichlids sit on the hearth. Both of these tanks are ~48"x12"x21" will be replaced this year. Felix will get ~ 60"x14"x24" (possibly from Customaquariums.com) made to fit my DIY stand. It will be factory bottom drilled & I will drill the stand to match. The top is 65"x15.5"x1.75" thick birch and the cabinet is two Lowes kitchen cabinets (each 30x12) joined with additional oak and poplar framing. $88 ea for the finished cabinets and about $260 for the (unfinished) bar top. There's $80 small lumber, $20 hardware, $5 glue, $25 urethane, $30 sandpaper etc. I routed the edges and flat-sanded it with a huge board, 12x24x1.75 by hand until dead flat. I made a matching shelf (not shown) from the scrap.
Poor photos . . . I took these right after we repainted & still cleaning, but here you can actually see the cast stone hearth and fascia. Clearly I can put even a 150g tank here if custom built, but my wife may be put off by size and mostly the cost.
The slumpstone fireplace facing and hearth stays.
but the Heatalator sheetmetal firebox guts and flue will all be removed. In fact the entire wood and stucco chimney will be removed to roof level, leaving a concrete-footed alcove outside the house (yet on its foundation) about 72" wide and 30" deep. The hearth is 72"x22" and opens ~40" wide x 32" tall into the firebox.
The resulting big chimney hole will be re-roofed, re-sheeted, etc. to create an alcove (essentially external to the house) that can be accessed from the outside, by a special door. The sump will only be accessed from the outdoors. I will possibly create a tray to drain seepage away to a weep there.
The idea is that the new tank will sit on a short steel stand. It will be drilled in back, and, wiring, plumbing etc. will all go through the wall to the sump. The "sump room" will be sealed from the back of the tank around the edges so nothing is seen from the sides,
I think this is sufficient footing for a much larger system. In any event the tank will be bedded on steel with multiple adjustment feet to the slumpstone. In the event of settlement, I can true things up easily.
Much more to come. Must take pix.