Dovii
Original poster
MFK Member
Dec 13, 2018
606
613
100
Real Name

Puddin'Tame
Gender

Male
Occupation

Retired computer bum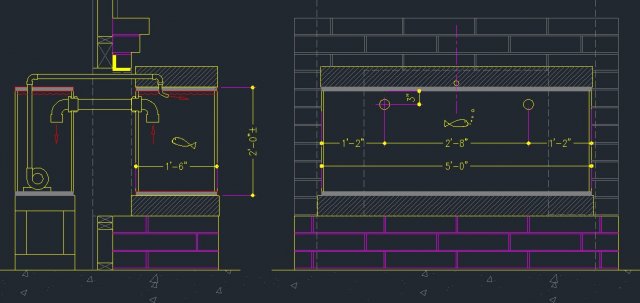 I needed dimensions so the tank can be drilled, so I updated my drawings. This is how I want to plumb the tank.
I am not showing control valves, unions, or media/baffles. This is highly schematic.
The tank and sump will be the same height at the top, so nothing can overflow, ever. Two 1.5" drains connect both, with no check valves. Any water drains freely either way.
Pump is at the sump bottom, and possibly external. No siphons required, If pump back siphons, no real siphoning happens. Everything stays pretty level.
I have an experimental electric boat I built from an old hulk, and it carries 6 group 29 RV batteries. In an emergency, I can power from there, IF I run them to an UPS system.
OR I can get a DC pump. 36vdc would be ideal, as that is what the boat operates on, but I haven't looked into the DC pumps available yet. I will initially power this from pumps I already have, if they appear too expensive.