Have you tested your water?

Yes
If yes, what is your ammonia?

0 ppm
If yes, what is your nitrite?

0ppm
If yes, what is your nitrate?

10ppm
If I did not test my water...

...I recognize that I will likely be asked to do a test, and that water tests are critical for solving freshwater health problems.
Do you do water changes?

Yes
What percentage of water do you change?

51-60%
How frequently do you change your water?

Every week
If I do not change my water...

...I recognize that I will likely be recommended to do a water change, and water changes are critical for preventing future freshwater health problems.
Hi all!
I have a 30 gallon tank with a pair of German Blue Rams, 25 (ish) Neon Tetras, and 1 Powder Blue Gourami. For filtration I'm using 2 AC 50s and 1 AC 30. Heating with the new version of Aqueon pro set to 80 degrees Fahrenheit. The tank is newly setup maybe a few weeks but is completely cycled.
I noticed a few small white dots on my Neon Tetras, maybe 1 dot on the fins on a few of them. I wasn't alarmed and decided I'll use the Aquarium Coop med trio so i can treat a wide variety of things since all these fish are new. The med trio consists of Ich X by Aquarium Solutions, Maracyn and ParaCleanse both by Fritz Aquatics. I dosed 5ML Per 10 gallons of Ich X and 1 packet of ParaCleanse and Maracyn for every 10 gallons. They said on Aquarium Coop to let the meds sit for a week, rather then change water and dose anew every day when using the med trio. So I let the meds sit in the tank for 2 days now and I noticed my male ram is lightly salted when he wasn't before. Does it get worse before it gets better? Or should i start dosing Ich X daily. The fish seem fine it doesn't seem to be stressing them out at all (yet). I just want to take care of it before it gets really bad. I heard when it comes to Ich your supposed to raise the temp to around 86 Degrees Fahrenheit to speed up the life cycle of the parasite (correct me if I'm wrong).
Here is a pic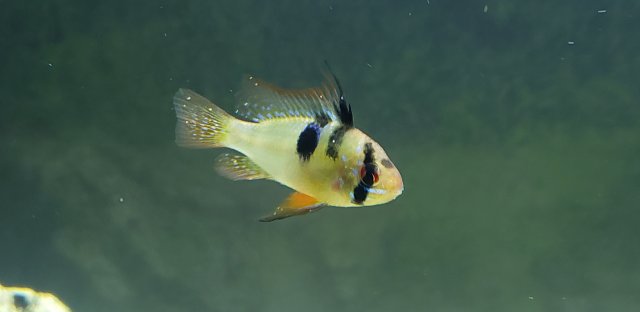 Thank you!