So I am a student an I can only get to my tank about 1-2 times a week during the school year, but I wanted something to grow out some decent size fish with little maintenance. As of now I am using a 25GPD drip system filtered by two 10inch chloramine busters. Comes out less than 140TDS. Sump is a 40b with lots of sponges for mechanical and a cubic foot of K1 fluidized by powerheads. I have a 50w UV sterilizer fed by a 120GPH powerhead to destroy hormones and parasites, it then feeds into a 40 gallon bucket with 6 inches of sand (external deep sand bed). I also use floating and rooted plants supplemented by a gentle 5lb CO2 system to facilitate growth. In the end it ends up around 180 gallons with the 125 display tank. Im happy with it and its worked great so far
Stocking:
1 WC Rotkeil Severum -7"
1 Santoperca Leucictica 7"
4 Geophagus Abailos 4"
1 G. Dicrozoter 2"
3 Apisto Eurthuras 2"
3 Leapoldi angels 3"
5 WC scalare angels 3"
some various tetras emporers and glolight (took out the ugly koi angel)
Pinstripe Dambas I started but took out when they started nipping angel fins.
DIY overflow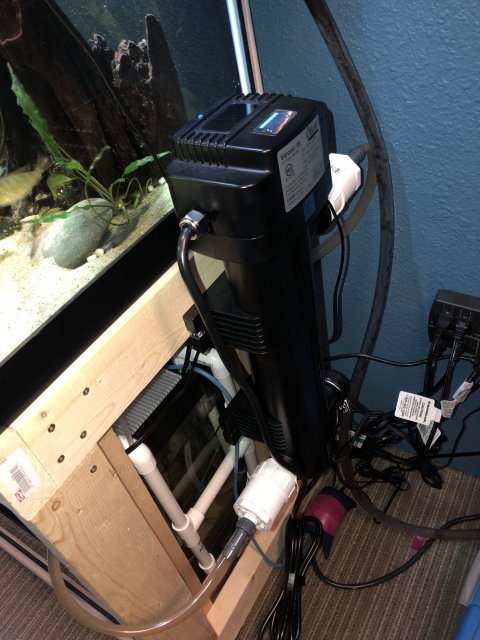 UV sterilizer feeds
Deep sand bed with syringe doser
(Took out the ugly koi angel)