Apr 27, 2018
866
1,623
134
26
In the fish keeping hobby, and predominantly in the "monster" fish keeping hobby, a question we often see arise with hobbyists is, "Do I put the effort and risk into converting my fish off of live foods and is it really worth the worry?". I'm sure most of us can agree that compared to "standard" live feeders, most feeding options would be considered better. But the confusion I see most often among hobbyists isn't that they don't believe there are better options.. but, that they feel the pro's of weaning their fish off live aren't worth the trouble and worry of seeing their fish struggling (or the personal satisfaction they get from the show). Even more so, is it worth the added stress of taking it one step further and converting their predatory fish to pellets when they so obviously have no interest in them initially? I recently returned one of my original fish from a friends aquarium("Tank B") back to my tank("Tank A") once again and was given a shining example of why this step can be so important.
I want to add quickly that I had no decision in what my fish was fed while living in Tank B and would never attempt to feed any living creature lower quality food to check a hypothesis. Saying that, Tank B's owner did his personal best to care for this fish and in no way did anything he thought might harm or stunt it. I am simply posting this now because after receiving my fish back and talking with the previous owner I have been put into a valuable position for documentation that could benefit many others who read this.
Backstory:
On December 30th I received (3) Cichla Sp. Brokopondo and added them to my
550 gallon aquarium
. These three will be our observed subjects for my data. All three Cichla came from the same vendors stock which had been imported to him all from one collector/farm. The only notable difference between these three Brokopondo were the initial size which they arrived at. Fish #1, who will be our
Orange Subject
arrived at 5.5". Fish #2, who will be our
Red Subject
arrived at 8". Fish #3, who will be our
Purple Subject
arrived at 6".
After about two weeks all fish were broken to eat pellets and by February 1st, all fish had gained an even size of about half an inch. By this time I was thinning stock on my tank and decided to sell
Fish 2
to a friend who kept him in a
600g aquarium with consistent drip water change systems
.
After a few months, my friend began to move away from bass and the fish returned to my ownership on June 3rd. Upon arrival,
Fish 2
was only about 10
". After speaking with my friend he let me know the
main diet this fish had been eating was feeder fish, and occasionally market shrimp, 5-6 days a week
. Compare that to the feeding
Fish
1
and
Fish 3
received in my tank of
Omega One Super Cichlid Color Floating Pellets, with occasional market shrimp afterwards, 6 days a week.
On June 3rd
Fish 1's size was 12 3/4"
and
Fish 3's size was 12 1/2"
.
To sum up the information, over the course of roughly 4 months,
Fish 1
and
Fish 3
showed a
fairly similar growth rate of around 6 1/2-7" inches of growth on a diet of mainly
high-grade fish pellets
and actually surpassed the size of
Fish 2
. Who was originally the largest of the group to begin with. After the same amount of time (4 months),
Fish 2
only grew about 2"
.
After seeing the changes in size,
data suggests a diet of pellets grew the two Cichla at roughly 3 times the rate of the feeder fish diet
.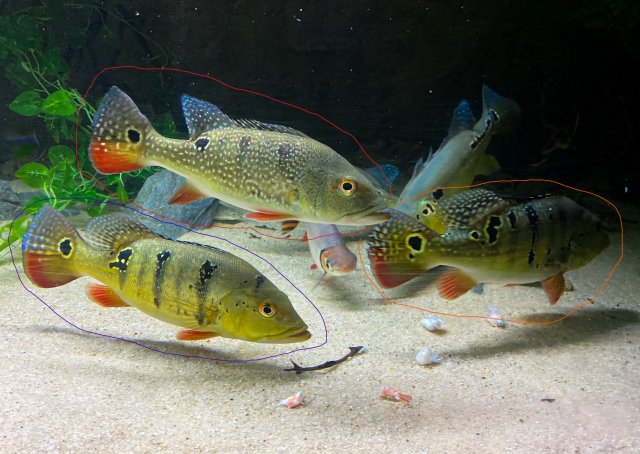 So how much more effective is a diet of pellets. The
data collected suggests around 3x as effective
. Unfortunately, all random variables could not be nullified but the numbers shown suggest that, to really nourish your fish, there is no comparison as to which option is better. I will add, however, that this study did not test for gut loaded feeders or ones bred for personal use.
Hopefully this will help others curious about this subject. Personally, I am always striving to better the diet quality of my fish and is one of the most important factors in an aquarium.