Dovii
Original poster
MFK Member
Dec 13, 2018
756
724
100
Real Name

Puddin'Tame
Gender

Male
Occupation

Retired computer bum
After listening to my overwhelmed drain glugging last night, I added another drain hose, and started cranking up the pump speed to see what would happen. At speed 20 it throws out a lot of water even through a garden hose. With 1 inch PVC hose that would be slick.
But I can't run it on 20 without flooding the tank. 4 of 20 is the max.
The feeding button "F" stops flow for whatever time you select, from 10 min up.
The "M" button controls the four different modes while it's running.
I haven't tried the anything but Continuous Flow yet.
Unfortunately the controller throws a code 7 every time while resuming from feed mode. When this happens the pump does not start but makes a noise. It will do this a few times, then finally start. Hopefully this just indicates something like an air bubble, or my garden hose is choking the pump a little bit.
This is my pitiful garden hose return pipe.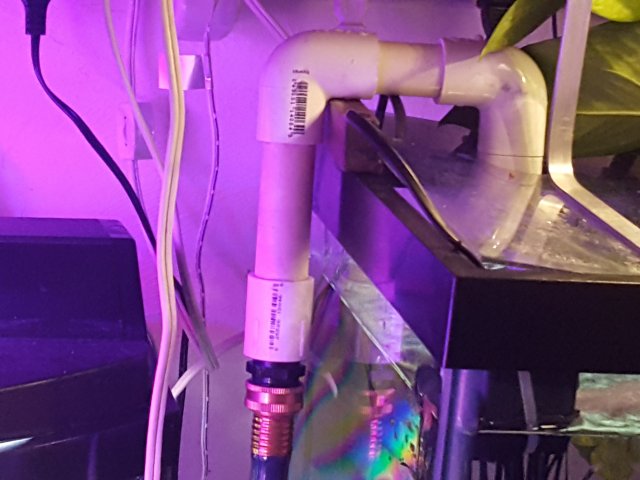 It's not better because I'm really just testing this pump for use in the larger tank and if it can run this system with about 70 gallons of water on speed one or two it should run the 125 just fine.
Hopefully the mono sebae will enjoy the tide pool flow mode once I get it all set up.
Anyhow it's on continuous duty right now so we'll see if it lasts.