Apr 27, 2018
858
1,541
134
25
Finally received my highly anticipated package from our import lord, Wes. Got two 3" wild Sp. Brokopondo and one 3.5" Rio Suriname C. Temensis. I actually broke my rule of not buying bass under 5" for these guys so I figured I'd use the opportunity to start a growout thread and track their growth and development. Especially because, upon looking for any pictures of Rio Suriname Temensis, other than some vague fishing pictures I couldnt find much. I know Aqua Imports brought some in a while back but all I could find on them were brief descriptions claiming they have more red that tends to be more intense and more spangling around their bars, sometimes even breaking their bars up slightly. I will add, the bars and lateral mark running down its side appear darker and more defined. Also, this Temensis' coloring looks to be a bit more mustard-y yellow compared to other Tem fry Ive had that looked more tan/yellow with gold spangling lightly around the bars. Other than that, no noticeable difference. Most bass I get are over 7" so it'll be fun getting to truly raise them from a very early age.
Currently I have them in a 55g growout with three C. Intermedia (two at 5", one at 3") and 4 growout geophagus and satanoperca. Filtration is at 425-475g per hour between the in-tank filter and HOB filter. Also added a sponge filter for added BB and drilled some holes in the lid to host Pothos for nitrate re-absorption.
PH in both of my tanks stays between 6.9 and 7.2. Nitrates are always kept below 10ppm, and temperature is at 82 degrees.
So far one Brokopondo and the Tem are already munching away on frozen mysis shrimp with the other brokopondo having a tougher time destressing and joining the other fish at the moment. Hopefully he adjusts and recovers soon as he does look a bit thin but I have the water lightly salted with the lights off and front covered to make it easy on them.
I'll try and update the thread about once a month to keep a consistent update going on their development.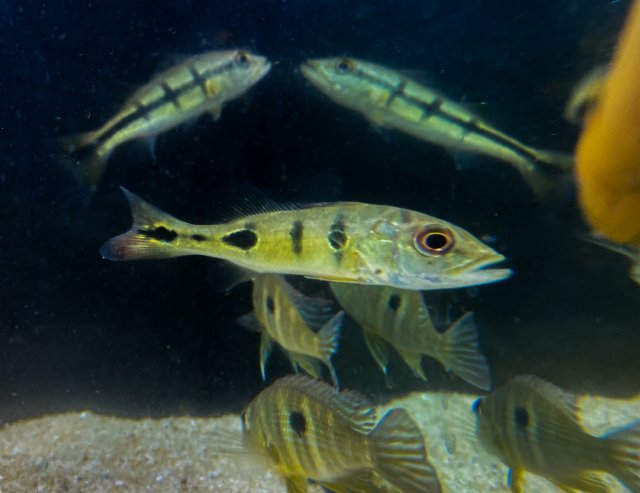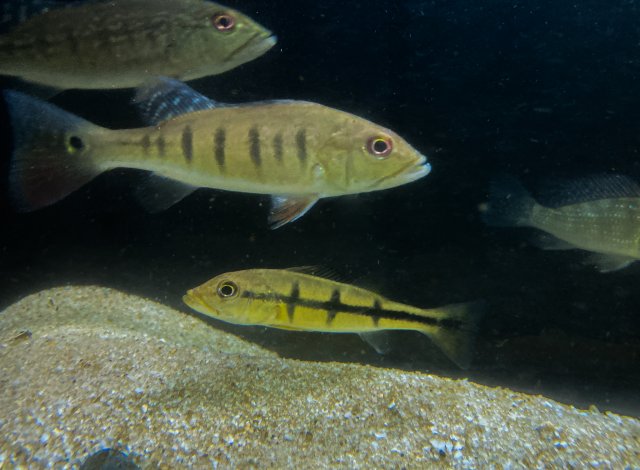 Last edited: